FAQ
---
Q. Why should I give?
Tuition at WCS​ ​covers day-to-day operational costs, including​ ​salaries and benefits, instructional​ ​expenses, and facility maintenance. What helps to make Collegiate special, though, are our special programs and initiatives that fall outside the scope of the operating budget.​ ​Your gift to the Fund for Collegiate through our Day of Giving allows us to​ ​say "yes!" to those above-and-beyond projects not​ ​included in the budget but​ ​deemed essential for the​ ​future success of WCS.
---
Q. Why is my participation important?
This year, Wichita Collegiate School's Board of Trustees and faculty and staff have made pledges toward our Day of Giving at historically high levels. These gifts signal both their solidarity and dedication to our school. Strong participation from​ ​our parents, grandparents, alumni, alumni​ ​parents, and other community members​ ​signifies your belief in and support of our​ ​mission and a commitment to the current​ ​and future success of the school.

---
Q. Is it worth it if I can only make a small gift?
Yes! Last year, gifts to our annual fund ranged​ ​from $1 to $75,000. We encourage​ ​you to give at a level meaningful to​ ​your family.
---
Q. What's with those fees?
GiveGab charges a 3% technology fee on all donations. There is an additional 2.5% (+ $0.30) processing fee charged by all major credit cards, or a flat $3 fee for gifts made via direct bank withdrawal. You have the option to cover those fees so 100% of your charitable gift will go to WCS.
---
Q. How can I give today?
You can give cash or a check by bringing it into the Advancement Office, or​ you can pay by ​credit card online!
---
Q. What are Wichita Collegiate School's 2022-23 Giving Levels?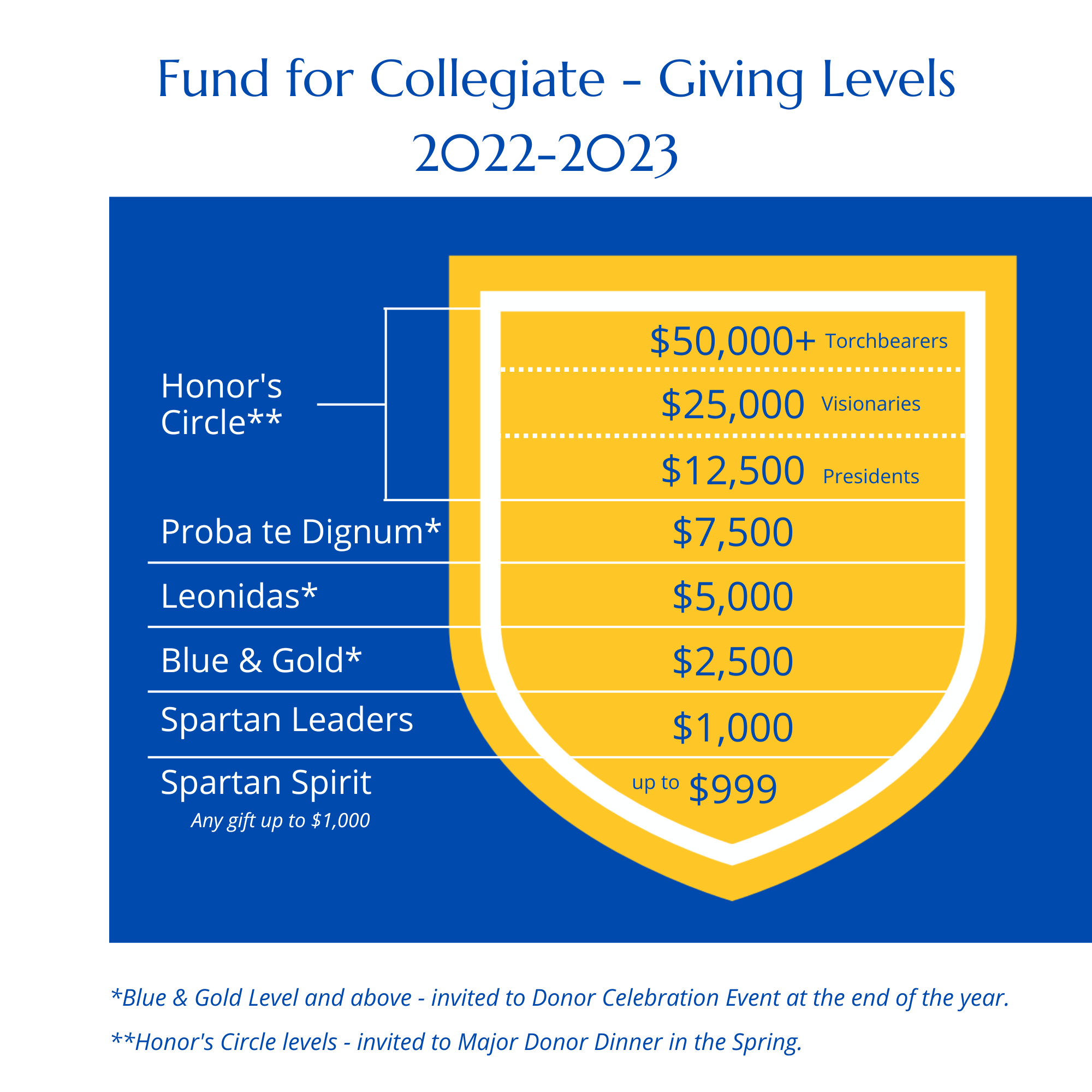 Click here for a printer-friendly version of the Giving Levels graphic.
---
Q. What are the Terms of Service?
As a donor participating in Wichita Collegiate School's Day of Giving, I understand the Terms of Service as outlined below including my personal roles and responsibilities.
I understand that only donations made through this Day of Giving website will count towards prizes and incentives offered as part of the Day of Giving.
I understand that Wichita Collegiate School will receive all monies donated.
I understand that GiveGab.com is an online platform which will safely process all contributions made to Wichita Collegiate School.
I understand that all gifts given on Day of Giving will go toward the Fund for Collegiate, unrestricted, unless expressly communicated to and confirmed by the WCS Advancement Staff. This includes any gifts given in honor or memory of someone.